In 1965 the 25th anniversary of the Battle was marked by the issue of a set of Battle of Britain stamps.
However the issue was not without controversy. In October 1964 Tony Benn (Anthony Wedgewood-Benn as was, a left-leaning politician) had become Postmaster General. He immediately widened the scope for commemorative stamps "to celebrate events of national or international importance, to commemorate appropriate anniversaries and occasions and to reflect Britain's unique contribution to the arts and world affairs".
To do this he asked for suggestions from the public. David Gentleman, the artist and stamp designer, responded.
Gentleman controversially suggested the removal of the Queen's head from pictorial stamps. He felt that its inclusion often caused problems for designers in terms of space for their work. As a republican Benn was enthusiastic and encouraged Gentleman to submit designs without the monarch's portrait.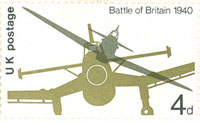 (Above: one of the 'headless' designs)
Throughout 1965 a behind-the-scenes battle ensued between Benn and Gentleman on the one hand and the Stamp Advisory Committee and Palace and postal officials on the other. Benn insisted on Gentleman's designs being tried out with the words 'Great Britain' or 'U.K. postage'. Gentleman did so for the Churchill memorial issue and then for the Battle of Britain stamps. However the Queen let it be known that her portrait was to remain and this is still the case today.
The BoB issue designer David Gentleman also recorded:
'When I was working on the Battle of Britain commemorative issue it was suggested by the Foreign Office that any illustration of Anglo-German conflict was in bad taste. It was only a hint, but it was the sort of hint that had to be avoided. I went ahead with what I had originally in mind, but if I had been less experienced it might have been different. The only weapon that the designer has is to say that he won't do the job – and that's usually a very difficult thing to say.
However once the stamp designs, with the Queen's portrait reinstated, were made public, another dispute arose and this led to a debate in the House of Commons on 4th August 1965. Benn was pressed by five MP's to withdraw one of the stamps as it depicted a swastika (see below). To his credit he replied:
The stamp referred to is one of a block of six designs depicting different aspects of the Battle of Britain. The broken swastika, half covered by the sea is shown on the shattered tail fin of a Luftwaffe bomber that has been shot down and is sinking into the English Channel. Above, four RAF fighters ride triumphant. Since this is what the Battle of Britain was all about I do not propose to withdraw the stamps.
Below: some of the First Day Covers produced at the time: