The Airmen's Stories –

F/Lt. I L McGregor Hallam

Ian Lewis McGregor Hallam was born on 2nd November 1918 in Edinburgh. It was about this time that he got the nickname "Toddy", due to the fact that he had been named after his Uncle Ian, who had been killed in the trenches during the First World War, He was educated at Repton School and learned to fly at the Phillips and Powis Aircraft Ltd. Training School under the auspices of the Royal Air Force. He first flew solo on 5th April 1937 in a Hawk Trainer.

After his training he was posted to 2 Squadron based at Hawkinge. On 3rd September 1939 war was declared on Germany and 2 Squadron was posted to the Abbeville/Senon/Labiusuere region in Northern France on 6th September. Whilst in Abbeville he carried out frequent reconnaissance flights over the field of battle until 19th May 1940, when the Squadron was sent back to Britain due to the German advance.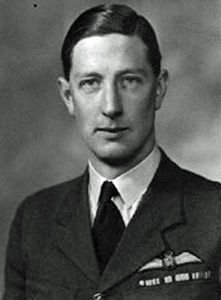 In July 1940 he was sent to the Photographic Reconnaissance Unit (PRU) at Heston in Middlesex for training. In August 1940 he was then posted to No. 225 (A.C.) Squadron at Tilshead in Wiltshire. Here he was trained in the flying of fighter aircraft, particularly the Spitfire. At the beginning of October 1940 he was posted to 222 Squadron based at Hornchurch in Essex.
He was one of the few experienced pilots available to supplement the exhausted Battle of Britain Pilots. During this period with 222 Squadron he flew up to 4 sorties a day. On the 17th October he claimed a Me109 damaged and between 2nd October and 25th October he claimed a Me109 destroyed, 2 damaged and 1 probable.
On the 27th September he was posted to 73 Squadron at Castle Camps in Suffolk. He was only at Castle Camps for a short time culminating in a crash landing on 3rd November 1940 near Redhill, due to poor visibility.
After several postings in the UK he was posted to No. 21 Air School of the South African Air Force based in Kimberley. He then went to 20 SFTS Cranbourne in Southern Rhodesia. He remained with this unit until June 1942. At the end of this posting he was promoted to Squadron Leader and returned to active flying as a photo-reconnaissance pilot.
He was flying unarmed Hurricanes on tactical PR sorties until 24th August 1942 when he failed to return from a sortie over the El Alamein battlefield. On 26th September 1942 the Germans broadcast his name as having been captured.
At Stalag Luft III he was appointed "Room Fuhrer" of Room 8, Block 62, as he was the most senior officer in the room. On or about 11th February 1945 the prisoners were liberated by American troops. From April 1945 until October 1945 he was on repatriation leave.
Following further courses he was appointed CO of Aberdeen University Air Squadron. On 10th May 1952, whilst flying a training flight in a Chipmunk with Cadet officer John Lawrie the aircraft they were in a crash causing the death of both occupants.