The Airwomen's Stories –

WAAF Cpl. Daphne Wallis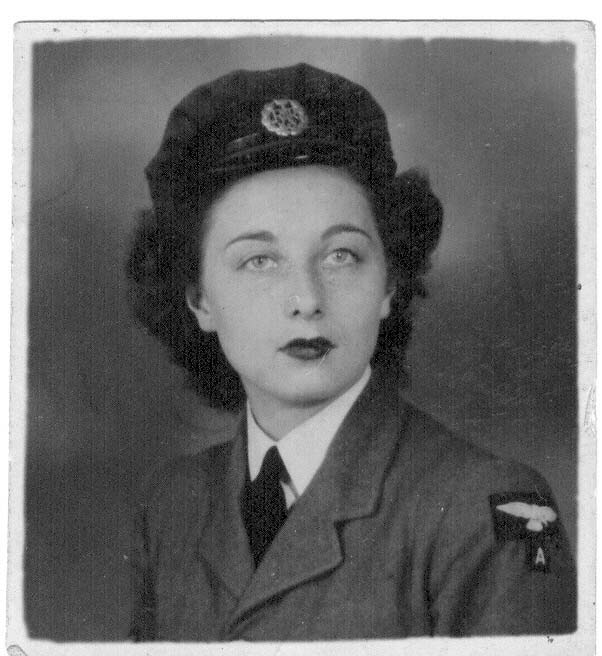 Photo taken 1945
I was 17 years old when the War started in 1939 and had thoughts of joining one of the services. The ATS (Army) was my first choice until somebody mentioned the WAAF (Womens Auxiliary Air Force). I said I have never heard of it and knew little of the Royal Air Force. The Wrens did not appeal to me, so I pondered for several months which to choose, the ATS or WAAF.
Time was going by and I had reached 18, so one Saturday morning I decided tentatively to make enquiries at Victory House in Kingsway, London. They were doing the recruiting there for the WAAF and I thought perhaps I could get some papers to read and see if that was what I wanted. There were masses of girls there, about 100, and we were told that only 50 of those who met the required standard would be accepted that day.
I was interviewed by a WAAF officer, she took my details and asked if I had any qualifications, I said that I had done the RSA Commercial Course at night school over three years and passed the exams. I did a typing test for her. She said that they were desperate for girls to work in signals and thought I would do well as a teleprinter operator, I said I have no idea what that is, she said well you would be sent on a course at Cranwell.
I said well I am only making enquiries at the moment but she did not take too much notice of me and the next thing I knew I was given a medical and was asked to sign some papers. I was rather shocked at this but was too timid to argue. She said you will soon be called up and I was within ten days. At this time I did realise that no doubt I would be called up one day and was satisfied that I had made my own choice. Later I had a date to report again to Victory House, I remember it was a Wednesday but cannot remember the date, it was in the Spring about the time of Dunkirk.
I was taken with other girls to West Drayton for "square-bashing" and a general introduction to the RAF. It seemed to me an adventure.
First of all we were given a meal on arrival, I believe this is a tradition of the RAF, it was a sausage roll and some mustard pickle. We were given our "eating irons" and told to hang on to them. We were billeted in barrack blocks, quite daunting, about thirty girls in a room. Then up at 6 am and report for breakfast at 6.30 am. There was attestation, we were given our number, photo taken, then off to Equipment for our uniform, some of us did not have every item as it was still fairly early days. Various passes were also given out.
It was a very busy two weeks of square-bashing, PT and lectures. An older soldier took us for marching and taught us how to salute, an all-WAAF band often accompanied the marching. We had lectures telling us all about the Air Force and I remember being told that the emblem we had on our sleeve was an albatross but that was later contradicted and it was said to be an eagle, but it will always be an albatross to me.
After the two weeks introduction at West Drayton we had to assemble in a hangar and wait for our names to be called out for our postings. Mine was RAF Debden aerodrome. I had never heard of the place. I had to be ready the next morning to go there. I was full of apprehension as I was posted alone, sometimes there were several girls going to the same place. I was given instructions for getting there and arrived at Liverpool Street Station with my kitbag and case, clobbered too with gas clothing on my back, a respirator and a tin hat. Fortunately a soldier came to my aid and carried my belongings to the train for Saffron Walden, I had there to catch another train for Audley End. There I had to report to the Transport Officer to arrange a lift to the aerodrome. I was really down in the dumps then, when the driver said I was going to the most awful place possible. I arrived at Debden's guardroom and a girl was summoned to collect me, the usual procedure, a meal in the mess, then to the Orderly Room where I was allocated a billet in one of the married quarters, the families had long since been turned out.
I was then taken to the Operations block to see the signals Warrant Officer. He sat with me for a few minutes to explain the job, he drew a circle and said that is "Group" he then drew a number of lines out of the circle and said that they were sectors. I asked what was a sector and he said we are. He told me I should have been sent to Cranwell for signals training but they have no room there as airmen are being trained in three shifts of eight hours each round the clock. I would be sent eventually but in the meantime I would have to sort it out for myself. A WAAF was put on duty with me to show me the ropes but I was terrified when first put in front of a teleprinter. But after a week I was beginning to get the hang of it but would be nervous when the time came to be left alone. I think it was the jargon I could not understand – "aircraft rendezvoused", "tallyho", "erk", "sprog", "wizard", "Me109" or "Ju88" did not mean too much to me.
The Intelligence Officer would debrief the pilots and bring the information in to us to be sent to Fighter Command, the Air Ministry and others that were interested. He wrote it down on any bit of paper handy, including the backs of envelopes, it was written in pencil and hard to understand, this although there were special forms for it.
I was now an Aircraftswoman second class U/T (under training) and paid eighteen shillings a fortnight, this was not much even in 1940. However after four weeks I was promoted to Aircraftswoman first class with an increase in pay so I must have been doing the right things.
My memory is that there were only seven teleprinter operators at Debden and we worked in shifts of four hours, the worst was 4.30 am to 8.30 am.
In August we had a really bad bombing raid, on or about the 26th. We had all been given our shelter number but if you were on duty in the Ops Block you stayed at your post. As far as I can remember some of the shelters did not have tops on them and my number was for one such trench. We had to jump in very fast, bearing in mind the enemy were already dropping their bombs. I remember a girl jumping right on top of me and can still remember her name. We were devastated when the raid was over, so much damage, huge craters everywhere.
We were not allowed to go back to our quarters as they were damaged and they feared that unexploded bombs were present. After two days had passed we were allowed to collect our belongings.
After the first bombing we slept on the lounge floor in the Station Commander's house and the second night we slept in some of the empty rooms in the Officers' quarters but eventually we were allocated married quarters in a different part of the drome that were not too badly damaged. We did not go to the Ops Block again but were taken out somewhere the country in a coach with the windows blacked out so we had no idea where it was and I do not know to this day.
All road signs were down and it was the blackout too but we were told it was a disused chicken farm. We used to get up at 3.30 am and have a meal before we picked up the coach. It was freezing cold out there and we had to sit in our raincoats as we had not been issued with greatcoats. I imagine they must have fitted up this place in the event of the Ops Block being too vulnerable on the drome. The sad part was that we could see London burning in the distance after one of those bad Saturday raids. We had several other air raids at Debden and more damage was done and so we were moved away, the more fortunate WAAF's were moved to Debden Manor, a country house, but signals girls went to a derelict house in Audley Road, Saffron Walden. It was appalling there, no heating and we were there past Christmas. Five beds were put in my room and I was closest to the door, the other girls could only get out by jumping from bed to bed and I was jumped on the most as I was in the last bed ! Anyway Corporal Puttick (known as Puck) was in charge of the house, she took pity on me and I moved into her room. Incidentally the Operations set up in the so-called chicken farm was called EOR (Emergency Ops Room).
On the lighter side, during the Battle of Britain we used to have a get-together, mostly on Sunday evenings in the Sergeants Mess, most of the gathering were aircrew. Entrance was by invitation and we danced to our resident dance band made up of airmen who had been musicians in the famous dance bands of the 30's and had played in the West End. The leader was Arthur Coppersmith. An older WAAF acted as a chaperone, inspecting us before we went in to see if any girl was wearing silk stockings, if so she was sent back to the billet to change into the regulation grey lisle ones.
The second development was that a school in Saffron Walden was taken over to be an AOR (Auxiliary Ops Room). The plotting table was put in the gymnasium and we were put in a small cabin above it, we looked down onto it similar to when we were in the Ops Block. We had started to have our meals in the school and then we were re-housed in the school rooms, an improvement on the awful Audley Road.
The NAAFI was put in an out-building. The King came to Debden to present medals to the aircrew after the battle was over. The airmen lined up in the school playground and we were able to see it all from the AOR's windows.
I remember a German plane landing on Debden aerodrome, it was said he was attempting to re-fuel, I am not sure. He did try again at two other aerodromes, they may have been Duxford and Coltishall. He was shot down at the coast.
1941 dawned and it seemed to be a little calmer. In the late Spring I was posted, alone again, to Headquarters 11 Fighter Group at Uxbridge, although I did go back to Debden in August that year for two weeks as a relief.
At Uxbridge Underground Station the RTO arranged transport for me to the camp, I was more confident this time. I was taken to the guardroom and the usual ritual, to the Mess then the Orderly room where I was given a billet in the old married quarters, then had to contact the Flight Sergeant in charge of Signals. He took me down to the underground bunker always known as "The Hole". I was put on B watch, there was only one other girl and the rest were airmen but they very warmly welcomed me. The duties were longer there, eight hours, with one break of fifteen minutes if we were lucky.
It was very busy there especially during the night. One of the days we would work midnight to 8 am and then on the same day at 4 pm until midnight, but usually had 36 hours off afterwards. Billets were moved from time to time and we often found it difficult to sleep during the day especially when we were moved to a hut which adjoined the practice room for the Central Band of the Royal Air Force. The noise was simply awful.
The next big event was the ill-fated Dieppe operation, also a hectic time.
Our signals section was growing all the time and part of it had to move out of "The Hole" to a Nissen hut but we soon outgrew that and eventually took over the old police school which was quite a large building.
A new rank was introduced for the WAAF, this was LACW (Leading Aircraft Woman) and I had mine almost immediately. I was proud to sew the props on my sleeve. I did not have them very long as I was then promoted to Corporal and moved back down "The Hole" in charge of a watch.
I never did get to Cranwell.
We were indeed fortunate to be able to get to the West End on our time off. London was full of troops, Poles, Czechs, Danes, Norwegians and Free French plus many also from the old Empire. Later there were the Americans. There were many service clubs where you could get a meal and sometimes an off-ration bar of chocolate or soap, much sought after.
There was the Nuffield club in Soho, the New Zealand Club in Charing Cross Road and the Queensbury Club in Old Compton Street which had been the Casino Theatre plus the Royal Opera House in Covent Garden which was give over to us for dancing.
We had a very famous actor at 11 Group, a Flight Lieutenant (Rex Harrison) who was able to get us many complimentary tickets for the London theatres, always the best seats. I think we were treated very well.
Security became very tight and we felt something very big was not very far off. We were supposed to march on duty, nearing "The Hole" we would be stopped by an army sentry with "who goes there" and again before we entered our place of work we were checked by a corporal airman with a revolver. Going on night duty the last girl in the squad had to carry a hurricane lamp, but I think we mostly got away with the marching.
June 1944 arrived and on one night duty, about 3 am, the signals officer came in to our workplace and told us to leave everything and gather round him, he announced that we had just made a landing in France although he had few details. I think we all cheered, the invasion at last. Around 6 am the signals started coming in and some of the news was not very good. I remember we voluntarily stayed on duty when the new watch came on at 8 am to help out, all hands on deck.
Well there were many ups and downs in 1944 but things improved in Spring 1945. Each day when we went on duty we used to ask "how far now to Berlin". Somebody had the bright idea to erect a blackboard to give us the mileage and we gradually saw it decrease.
Myself and another corporal were recommended for the third stripe, it was in the pipeline, but as the war was nearly over it was cancelled. Everything came to an end at last, the worked dropped off and now time came to think of de-mob. I could have stayed on with immediate promotion but I had married half way through the war, so I would be leaving with much regret but did not think the peacetime RAF would suit me.
I realised that I had been on duty at the time of great events. The Battle of Britain at 3 pm on 15 September, the time when we had given the Germans their final hiding, also Dieppe and the Normandy Landings. I feel I was very privileged to take part in such an important time of our history, it was a "one-off", unlikely to happen again in that way when this country stood alone.
I wonder what would have happened if we had not had those brave aircrew, it does not bear thinking about.
I am 84 now but so glad I went into Victory House that Saturday morning and was accepted for the WAAF, can it really be 65 years ago. Memories are still fresh and I remember that year at Debden with great warmth. Luckily I am still in touch with two ex-WAAF's from those days at from those days at Debden.
I like to think of that time as my Halcyon Days.
Daphne Wallis (neé Blackney) 2006