The Airmen's Stories –

F/O B E Finucane

Brendan Eamonn Fergus FINUCANE was born in the Irish City of Dublin on 16th October 1920. He was the eldest of five children and in his youth he attended the local Christian Brothers O'Connell School. Brendan's mother and father, Florence and Thomas Finucane moved their young family away from Dublin to Richmond in England during 1936, whereafter upon leaving school Brendan found employment as a clerk, but his good aptitude for mathematics inspired him in the hope of building a career in accountancy.

With the dark clouds of war looming over Europe in the late 1930's Brendan decided instead to make a career as a pilot with the Royal Air Force and first applied to join in April 1938. His application was successful and he began his flying training in August just prior to his 18th birthday. Surprisingly perhaps considering his later accomplishments as a pilot, Brendan initially struggled in his endeavours learning to fly and was consistently rated as 'below average'. Despite this on-going frustration he achieved operational status and eventually qualified to become a fighter pilot flying the Supermarine Spitfire.

The young 19 years old Pilot Officer Finucane was posted to No.65 Squadron at RAF Hornchurch in Essex during mid-July 1940 just as the Battle of Britain began. Soon in action against the numerically superior German Luftwaffe, Brendan shot down his first enemy plane, a Messerschmitt Me109, on 12th August 1940 along with a 'probable'; and then on the following day when the Chief of the Luftwaffe, Hermann Göring launched his much anticipated Adler Tag – Eagle Day, Brendan promptly doubled his score when he destroyed another Me109. After a further fortnight of continued action during which time Brendan did not add to his score of personal victories, the squadron were then 'rested' at the end of the month and transferred away from the frontline to RAF Turnhouse in Scotland.

With eventual RAF victory in the Battle of Britain and the threat of a Nazi invasion of England receding, it was not until January 1941 that Brendan Finucane or 'Paddy' as he was now better known achieved another aerial victory over the enemy. His success in combat led to the award of a Distinguished Flying Cross (DFC) in May, the citation stating:
"This officer has shown great keenness in his efforts to engage the enemy and he has destroyed at least 5 of their aircraft. His courage and enthusiasm have been a source of encouragement to other pilots of the squadron"
This deserved award coincided soon after a posting as a Flight Commander in April to a newly formed unit that was to become the first Australian squadron in England. Paddy now had to train and pass on his aerial fighting skills to a group of eager Commonwealth pilots before they could be sent into battle against the enemy across the English Channel. Soon after No.452 Royal Australian Air Force Squadron became operational, Paddy then further demonstrated his growing reputation by scoring the unit's first aerial victory on 11th July 1941. It was at this time that he became best friends with Flight Lieutenant Keith 'Bluey' Truscott, one of the Australian pilot's and together with whom he eventually planned to set up in business 'down under' once the war was over.
Paddy was a very popular individual and his Irish charm linked to a quiet and deliberate manner was a strong element of his character. He was as keen as any serving officer to have fun and join in with the many varied parties when off duty, but he did not drink to excess and encouraged his fellow pilots to do likewise. His best friend 'Bluey' Truscott was stated to say that, "…Paddy was the best bloke I've ever met outside Australia!" – Praise indeed from a tough Aussie!
Operations to strike back against the Nazi forces across the English Channel led to increasing RAF attacks against them throughout 1941, and between early August and mid-October, Paddy claimed at least sixteen enemy fighters destroyed. His achievements led to the award of two more DFC's in September followed by the award of a Distinguished Service Order (DSO) in October. The citation for the DSO stated:
"Recently, during two sorties on consecutive days, Flight Lieutenant Finucane destroyed 5 Messerschmitt 109's bringing his total victories to at least 20. He has flown with this squadron since June, [sic] 1941, during which time the squadron has destroyed 42 enemy aircraft of which Flight Lieutenant Finucane has personally destroyed 15. The successes achieved are undoubtedly due to this officer's brilliant leadership and example."
Despite facing danger in the air on an almost daily basis Paddy managed to suffer a non-flying accident in November 1941 when he broke an ankle during the 'Blackout' when he tried to jump over a wall. After recovery he re-joined the Australians of No.452 Squadron during January 1942, yet within a week he was promoted and given command of No.602 Squadron at RAF Redhill in Surrey.
More misfortune befell Paddy on 20th February whilst in combat with deadly Focke-wulf Fw190 fighters over Mardyck near Dunkirk. He was flying Spitfire MkVb BL548 during a 'Rhubarb' sortie [low-level freelance fighter operation against ground targets] when a cannon shell exploded in the cockpit of his fighter. Wounded and losing blood he showed commendable skill despite growing ever weaker from his injuries to successfully land his aircraft, after which he then had to be gently lifted out from the shattered cockpit before being taken to hospital. Amazingly Paddy soon recovered and was back in action to seek his revenge and did so on 13th March 1942 when he shot down one of the dreaded enemy Focke-Wulf fighters.
Greater recognition came his way in June with promotion to Wing Commander to lead four fighter squadrons at Hornchurch, which made him the youngest ever to hold this high rank and responsibility. Paddy Finucane was now a legendary and well-known figure, his leadership was outstanding and the aura surrounding him affected air and ground crews alike along with members of the general public. Even with so much popular publicity and the distractions, Paddy dutifully maintained his religious ways and attended Mass regularly, but was not the kind who forced his beliefs on anyone, although he would be happy to discuss them in his quiet charming lilt with those who so wished.
Another mark of his character and feelings was demonstrated after a member of his ground-crew in wanting to show off his pilot's prowess in combat, added a series of small Swastikas around the Irish shamrock emblem that adorned his Spitfire. Upon seeing these symbols signifying the number of enemy aircraft he had destroyed, Paddy asked in a most kind and friendly manner for their immediate removal. Though he may have been a leading RAF ace and proud of the achievements of his squadron, he had no desire to boast about his personal victories in which he had no knowing of how many enemy airmen he may have killed.
For 15th July 1942, the following entry appears in the No.154 Squadron Operations Record Book:-
"A fine bright day today and at eleven thirty pilots are called to the briefing room and told by Wing Commander Finucane that the hutted camp at Etaples is going to be shot up. He is leading 154. It is a tragic day for us all. Wing Commander Finucane has the foulest luck. A stream of bullets from a Hun machine gun on the beach in the Estuary mouth gets his radiator. He is forced to ditch and is not seen again."
It was after the attack against the targets in Occupied France that the Hornchurch Wing led by Paddy reformed and started to head back home across the English Channel. But as the large formation of RAF fighters crossed the French coast near the estuary at Le Touquet, a burst of German machine-gun fire came up from the beach and hit the Spitfire MkVb BM308 (a presentation aircraft named "B.E. Finucane") being flown by the Wing Commander. The radiator was damaged and soon the Roll-Royce Merlin engine of the fighter began to overheat, but no doubt hoping the faltering aircraft would get him home Paddy flew on rather than risk becoming a prisoner-of-war. The engine unfortunately soon seized up after about 10 miles from the enemy coast and with the height of the Spitfire too low over the water for him to safely bale out, his comrades had to watch him descend down onto the unwelcoming Channel. They also reportedly heard his last known words when Paddy was said to exclaim over the radio, "This is it chaps!"
His stricken Spitfire appeared to make a textbook ditching on the water, but after only a few seconds both Paddy and the Spitfire sank below the surface and down into the dark cold depths of the English Channel. It is possible that the impact of landing on the water had rendered him unconscious or badly dazed, such that he could not extricate himself from the cockpit and into his dinghy. But whatever truly happened in those final moments, only a thinning slick of oil on the sea marked the grave of a well-respected and much-loved leader. He was only 21 years of age.
Paddy Finucane despite his Irish roots was a national hero in Great Britain and his loss touched a great many of its citizens. When a Requiem Mass was held for him at Westminster Cathedral in London, over 3,000 people attended, which was then followed by a nationwide appeal that resulted in the bequeathing of the 'Finucane Ward' in the Richmond Royal Hospital.
Because he remains officially missing, Paddy is remembered upon Panel 64 at the RAF memorial at Runnymede near Windsor that commemorates over 20,000 RAF airmen of the Second World War who went missing over the European region. In his short life, Wing Commander Brendan Finucane DSO, DFC & 2 Bars, proved himself to be a remarkable young man who achieved incredible things, and though there are some arguments regarding the true number of enemy aircraft he destroyed, which number at around thirty, his sacrifice for our freedom makes him someone Great Britain should be forever proud.
Apart from the road named after Finucane at the Grassmead Estate in St.Mary Cray, Kent, there is a block of flats named 'Finucane Court' in his old hometown of Richmond in Surrey.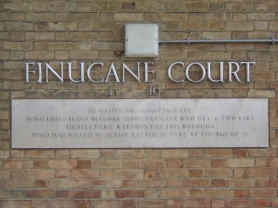 Dean Sumner: September 2007
April 2009 – Paddy Finucane is now commemorated in his native Ireland – click here