Saint George's Royal Air Force Chapel of Remembrance Biggin Hill
The last RAF unit left Biggin Hill in October 1992 when the Officer and Aircrew Selection Centre moved to RAF Cranwell. Today, the RAF's 75 year tenure at Biggin Hill and the 454 allied aircrew who were killed during WW2 while operating from the Biggin Hill Sector are commemorated in St George's Royal Air Force Chapel of Remembrance.
The Chapel, which is an active church, is situated on the Main Road (A233) north of Biggin Hill village. The entrance is flanked by full-scale replicas of a Hurricane and a Spitfire.
It was built and dedicated in 1951, replacing the first station church made in 1943 from 3 wartime huts and destroyed by fire in 1946. The present Chapel retains something of the internal appearance of the original church, and has an atmosphere of great tranquility and peace, but it is of course more ornately furnished and has exceptionally fine stained glass windows, designed by Hugh Easton, as well as a number of other interesting artefacts.
Some 12000 people visit the chapel each year, and in addition to regular weekly services, special commemorative services are held on Battle of Britain Sunday and Remembrance Sunday.

Regrettably the Chapel is now closed as it is being redeveloped as part of the new Biggin Hill Memorial Museum, you can follow progress at https://bhmm.org.uk
The chapel has a large number of stained glass windows showing all aspects of Fighter Command's operations (below)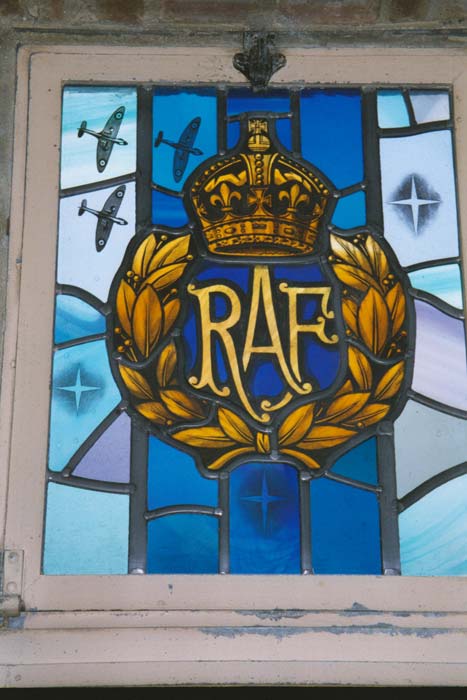 All airmen killed or missing in action while operating from Biggin Hill during WW2 are commemorated by name on either side of the altar (above and below)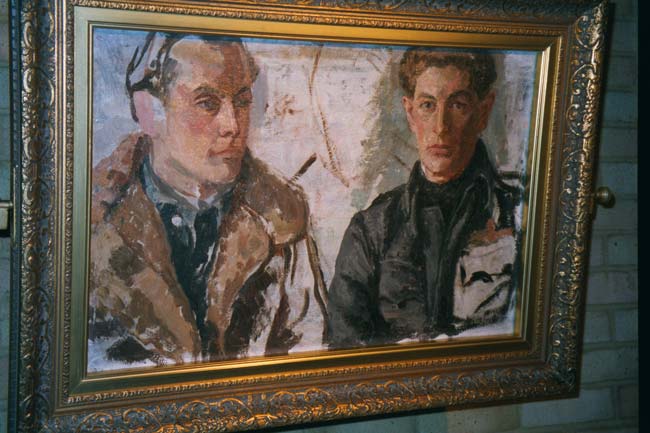 Ask the curator about the mystery painting (left)
One of the fire bells from Biggin Hill is now in the RAF Museum at Hendon (below)