Battle of Britain Class Locomotives
In order to meet the post-war requirements of the railway network, the Chief Mechanical Engineer of Southern Railway (as it was then), Oliver Bulleid, designed a new steam locomotive which was was named the Light Pacific. A total of 110 of these were constructed between 1945 and 1950 and seperated (though mechanically identical) into the 'West Country' Class and 'Battle of Britain' Class.
The class difference simply referred to the origin of the names that were to be given as per the practice of the time to each individual locomotive. The 'West Country' Class were named after holiday resorts and 'beauty spots' in that area and the 'Battle of Britain' Class took their names from people, places, aircraft and other entities linked to the Battle of Britain. Apart from honouring the memory of the Battle, this choice of subject resulted in a considerable amount of publicity for Southern Railways and was considered a PR coup by the standards of the day.
The 'Battle of Britain' Class comprised 44 locomotives (in sequence of the loco running number):
1 Anti-Aircraft Command
2 Royal Observer Corps
3 Winston Churchill
4 Lord Dowding
5 Sir Keith Park
6 Lord Beaverbrook
7 Fighter Pilot
8 Croydon
9 Biggin Hill
10 Sir Frederick Pile
11 Sir Archibald Sinclair
12 25 Squadron
13 73 Squadron
14 17 Squadron
15 229 Squadron
16 Fighter Command
17 Hurricane
18 Spitfire
19 Tangmere
20 Kenley
21 Hawkinge
22 Manston
23 601 Squadron
24 257 Squadron
25 249 Squadron
26 46 Squadron
27 264 Squadron
28 41 Squadron
29 603 Squadron
30 222 Squadron
31 141 Squadron
32 74 Squadron
33 92 Squadron
34 615 Squadron
35 605 Squadron
36 253 Squadron
37 501 Squadron
38 219 Squadron
39 145 Squadron
40 213 Squadron
41 602 Squadron
42 Sir Eustace Missenden, Southern Railway
43 Sir Trafford Leigh-Mallory
44 66 Squadron
With the end of steam services in 1967 many of these engines were scrapped but it is believed at time of writing that about 20 survive in various states of preservation. A large number of the nameplates (two per engine) have been preserved, many in the hands of the RAF, and these are now objects of great interest and value.
*******************
This article, written by Geoff Simpson, appeared in the February 2009 issue of British Railways Illustrated.
BATTLE OF BRITAIN NAMES
Those Battle of Britain class names have stirred the souls of generations of enthusiasts. They've caused much debate and the decision to use them more than maintained the Southern Railway's reputation for astute public relations through its naming policy. Everybody with at least a passing interest in the events of 1940 has their own views on the names that were selected and those that weren't. However, it's worth keeping in mind that the decisions were made at a time when the definitions of the Battle of Britain and who took part in it were still in flux.
There was a strong lobby during the war for the compiling of a list of the airmen who had flown in the Battle – and arguably played the leading role in saving the country from invasion – as well as for a special award for them. A proponent of producing a list was Captain Bruce Ingram who owned the Illustrated London News. In a letter in 1942 to the Air Minister, Sir Archibald Sinclair, Ingram argued that the Battle of Britain was as important in the country's history as the defeat of the Spanish Armada and the Battle of Trafalgar. The official report of the Battle in 1941 had given its dates as August 8-October 31 1940. In an Air Ministry order of 1945 the starting date became July 1, which was altered to July 10 in 1946. The dates were now those favoured by Lord Dowding, though he admitted that there was no perfect definition.
The list of participating squadrons kept altering until as late as 1961 when 804 and 808 Squadrons of the Fleet Air Arm were added. Perhaps this explains why the FAA was not honoured on a locomotive, although FAA pilots also flew on attachment with Fighter Command squadrons. So the final definition is that to be considered one of "The Few" an airman must have made one authorised operational flight with one of 71 designated units under the control of RAF Fighter Command between the stipulated dates.
About 2940 men qualified for the 1939-45 Star with Battle of Britain clasp and their names can be seen on the wall at the National Memorial to "The Few" at Capel-le-Ferne, Kent and on the London Monument on the Embankment. However, the research goes on and it is likely that one or two men will be added or subtracted in the years to come. When this article was being written in the autumn of 2008 around 120 of "The Few" were still alive.
Perhaps my least favourite name amongst those chosen for the locomotives is Fighter Pilot. Although the Spitfires and Hurricanes bore the brunt of the fighting, multi-crewed aircraft such as the Blenheim and Defiant took part and so not all of The Few were pilots. Indeed, the point is acknowledged in four of the squadrons selected, as noted below.
Squadrons which seem unlucky not to have featured include 32 and 610 (County of Chester). Both were in the thick of the fighting in July and August. They were based at Biggin Hill and often moved forward to Hawkinge during the day. Photographs of pilots of both squadrons, taken at Hawkinge, are amongst the most familiar scenes from the Battle.
Some might have paid tribute to the Auxiliary Air Force (not "Royal" until 1947) and the Royal Air Force Volunteer Reserve. The former provided almost 100 of the aircrew in the Battle and the RAFVR nearly 800. However, six locomotives carried the names of pre-war AAF squadrons – 501, 601, 602, 603, 605 and 615. One specially formed Royal Canadian Air Force squadron, known as No 1 Squadron, RCAF, took part in the Battle, as did two Polish squadrons and two representing Czechoslovakia.
Perhaps it is also worth noting that, during the Battle, six members of the Women's Auxiliary Air Force earned the Military Medal. Three were based at Biggin Hill, one at the Poling radar station near Littlehampton and two at the Coastal Command airfield at Detling, Kent.
                                                                                                           *******************
Background notes to the names.
34049 Anti-Aircraft Command – Part of the Army, but under the operational control of Fighter Command. Although AA fire downed relatively few enemy aircraft, it presented a further obstacle to them and boosted civilian morale as a visible sign of Britain hitting back. Damage and casualties on the ground were, however, caused by the detritus of the barrage.
34050 Royal Observer Corps – With radar generally unable to follow enemy aircraft once they had crossed the coast, the Observer Corps played a vital part. The Corps was given its Royal status in 1941.

(Above: at Bentley Priory before its closure)
34051 Winston Churchill – Prime Minister from May 10 1940. He made it clear in the second volume of his book The Second World War, that when he spoke of the "Few" in the House of Commons on August 20 1940, he intended only to refer to the pilots of Fighter Command, although it is possible to interpret his words in other ways.
34052 Lord Dowding – Air Chief Marshal Sir Hugh Dowding led Fighter Command from its inception in 1936 to his removal in November 1940 in circumstances which still cause fierce debate. In 2003 Wing Commander John Beazley, DFC (A Pilot Officer with 249 Squadron in 1940) wrote:
"Stuffy Dowding was a great commander and to this day we, his pilots, remember him with respect and affection and think he should have been made an MRAF (Marshal of the Royal Air Force)"
Others have argued that, without Dowding's achievement, commanders such as Montgomery would not have had the opportunity to win their battles. Dowding's son. Flying Officer Derek Dowding, flew in the Battle with 74 Squadron.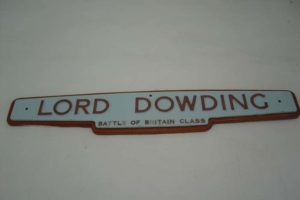 (Above: at Bentley Priory before its closure)
34053 Sir Keith Park – The New Zealander who commanded no 11 Group Fighter Command, which bore the brunt of the fighting. As with Dowding his treatment after the victory continues to be deeply controversial. Unlike Dowding he went on to hold further high operational commands.
"If ever any one man won the Battle of Britain (Park) did. I don't believe it is realised how much that one man, with his leadership, his calm judgement and his skill did to save not only this country but the world," said MRAF Lord Tedder, Chief of the Air Staff, in a speech in 1947.
34054 Lord Beaverbook – Canadian born newspaper owner who was appointed Minister of Aircraft Production in May 1940. His son, Squadron Leader the Hon Max Aitken, DFC, commanded 601 Squadron in the early stages of the Battle.
34055 Fighter Pilot – A nameplate from this locomotive was displayed at the entrance to the former Fighter Command headquarters at Bentley Priory, Stanmore, along with plates from Fighter Command, Royal Observer Corps, Lord Dowding, Hurricane and Spitfire. One was stolen in recent years and the others are in store following the departure of the RAF from Bentley Priory in 2008 and pending the establishment of a museum on the site.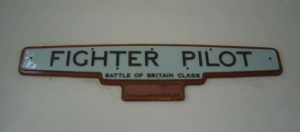 (Above: at Bentley Priory before its closure)
34056 Croydon – A First World War Royal Flying Corps airfield originally known as Waddon. It became a major civil airport in 1920 and RAF Croydon on August 29 1939. The RAF left in 1946 and civil flying resumed. An imposing memorial to personnel who served at the airfield was unveiled in 1991.
34057 Biggin Hill – Airfield between Bromley and Westerham which perhaps became more associated with the Battle in the public mind than any other. Biggin was one of the sector stations playing a part in controlling the fighting. It was opened by the RFC in 1917 on land owned by Earl Stanhope. Today it is the civilian London Biggin Hill airport, but there are still reminders of the Battle to be found including blast pens and a dispersal hut. The St George's RAF Chapel (accessible without entering the airport) is open on most days, with services on Saturdays and Sundays and is a moving evocation of Biggin's wartime role.
34058 Sir Frederick Pile – "Tim" Pile served in the Royal Horse Artillery, including the retreat from Mons and the Royal Tank Corps. He led Anti-Aircraft Command from 1939 to 1945.
34059 Sir Archibald Sinclair – A Liberal politician, Sinclair had been close to Churchill for many years before he became Secretary of State for Air in 1940, a post he retained until 1945.
34060 25 Squadron – Operated Blenheims and Beaufighters during the Battle from Martlesham Heath (Suffolk), North Weald and Debden (both in Essex), one of the squadrons, therefore, that was not based on the Southern rim.
34061 73 Squadron – Flew Hurricanes from Church Fenton (Yorkshire), Debden and Castle Camps (Cambridgeshire).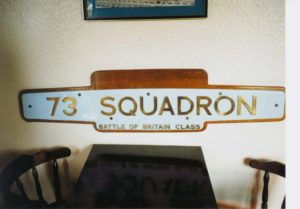 (Above: at Bentley Priory before its closure)
34062 17 Squadron – A Hurricane squadron which flew from Debden, Tangmere and Martlesham Heath.
34063 229 Squadron – With Hurricanes, 229 fought through the Battle from Wittering (Cambridgeshire) and Northolt (Middlesex).
34064 Fighter Command – One of five Home Commands created in the mid-thirties. For a short time in the Second World War it was known as Air Defence of Great Britain. It became part of Strike Command in 1968.
(Above: at Bentley Priory before its closure)
34065 Hurricane – During the Battle 35 squadrons operated Hurricanes and the aircraft accounted for far more "hostiles" than all other causes put together. Hurricane pilots remember them as good gun platforms, which could take much punishment. However, "Hurricane burns" became a piece of medical jargon.
34066 Spitfire – The Spitfire, which equipped 19 squadrons in the Battle, achieved great fame and was developed far beyond the original design. The last RAF sortie by a Spitfire was flown in Malaya in 1954.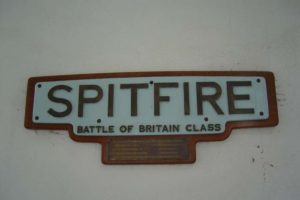 (Above: at Bentley Priory before its closure)
34067 Tangmere – East of Chichester. A military airfield from 1918 to 1970 and a sector station during the Battle. The Tangmere Aviation Museum is on the site today.
34068 Kenley – Close to Croydon. An operational airfield between 1917 and 1966 and a sector station in the Battle. Today it is given over to housing and parkland. A memorial was unveiled in 2000. In the same year an English Heritage report described Kenley as the most complete surviving airfield from the Battle. It was designated a conservation area.
34069 Hawkinge – This airfield, near Folkestone, was so exposed that its main use was the re-arming and re-fuelling of squadrons, which often operated from it during the day, before returning to airfields further inland. Much of the site is now covered by houses, a source of considerable local displeasure. Some of the roads that have been created are, however, named after aircraft and aircrew from the Battle.
The Kent Battle of Britain Museum, based in some of the old airfield buildings, has a remarkable collection of artefacts.
34070 Manston – Two miles west of Ramsgate and therefore also extremely exposed and used mainly as a forward airfield. Both Manston and Hawkinge were in sector D controlled by Hornchurch. Also in that sector was Gravesend, which did not figure as a locomotive name. Today Manston is Kent International Airport and home of the Spitfire and Hurricane Memorial Museum.
34071 601 Squadron – A pre-war AAF squadron which, like all the others, had been incorporated into the RAF on the outbreak of war. Flew Hurricanes from Tangmere, Debden and Exeter during the Battle. Its territorial designation was "County of London" and it became known, with some justification, as "The Millionaires' Squadron".
34072 257 Squadron – A Hurricane squadron which flew from Northolt, Debden, Martlesham Heath and North Weald. By early September 1940, with casualties mounting and the CO showing a distinct lack of enthusiasm for confronting the enemy, morale was very poor. A new CO, Squadron Leader Bob Stanford Tuck, turned things round, supported by his flight commanders, Flight Lieutenants "Pete" Brothers and "Cowboy" Blatchford, a Canadian.
34073 249 Squadron – Flew from Church Fenton, Boscombe Down (Wiltshire) and North Weald. Fighter Command's only VC was won by Flight Lieutenant James Nicolson of 249, who, on August 16 1940, over the outskirts of Southampton, remained in a burning Hurricane cockpit long enough to shoot down an enemy aircraft. He was further wounded under his parachute by fire from the ground. Nicolson seems to have been deeply disturbed by being singled out amidst so much heroism.
34074 46 Squadron – This Hurricane squadron had been virtually wiped out in the Norwegian campaign including through the loss of the aircraft carrier, HMS Glorious. It was re-formed at Digby, Lincolnshire in June 1940 and later operated from Stapleford, Essex. Among the 14 aircrew killed in the Battle was Sub Lieutenant John Carpenter, one of the FAA pilots on attachment to the RAF, shot down over Kent on September 8 1940.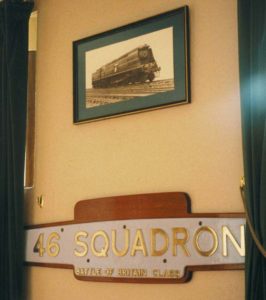 (Above: at Bentley Priory before its closure)
34075 264 Squadron – In seven terrible days at Hornchurch in late August 1940 this Defiant squadron had 14 aircrew killed. Perhaps there was no greater heroism in the Battle than to be a Defiant air gunner knowing that the Germans had the measure of your aircraft and escape from the turret would be difficult. One of those gunners on 264 was Sergeant Bill Machin, who joined on August 22 and was shot down and died of wounds on August 24.
34076 41 Squadron – The squadron's Spitfire's alternated between Catterick and Hornchurch. From mid-September its CO was Squadron Leader Donald Finlay who had won a silver medal for GB in the 110 metres hurdles at the Berlin Olympics of 1936.
34077 603 Squadron – The City of Edinburgh Squadron of the AAF, whose Spitfires operated from Turnhouse (Edinburgh) and, from the end of August, Hornchurch. Throughout the Battle, the CO was Squadron Leader George Denholm, DFC, known as "Uncle George", both for his avuncular manner and because, aged 31, he seemed remarkably old to some of his men. In October 1939 he had shared in the destruction of the first enemy aircraft of the war brought down over Britain.
34078 222 Squadron – Another Spitfire squadron which moved south to Hornchurch (from Kirton-in-Lindsey) at the end of August.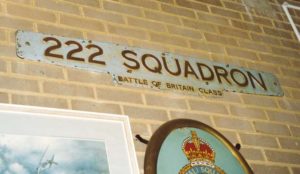 (Above: pictured at Manston Museum)
34079 141 Squadron – The other Defiant squadron. On July 19, 141 took off from West Malling for its one and only day fighter sortie of the Battle. Off Dover Messerschmitt Bf 109s were encountered and the squadron lost six aircraft with 10 aircrew killed. The day has gone down in RAF history as "The Slaughter of the Innocents", though "Heroes" might be a better word.
34080 74 Squadron – Hornchurch, Wittering, Kirton-in-Lindsey and Biggin Hill were the bases for this Spitfire squadron during the Battle. From August 8 the CO was the South African, Squadron Leader "Sailor" Malan, DFC, so called because he had been to sea before joining the RAF.
34081 92 Squadron – At the start of the Battle, the Spitfires of 92 were at Pembrey in South Wales. They moved to Biggin Hill on September 8. The squadron was often regarded as one to look up to, but it suffered heavy casualties in the Battle, including the loss of COs and when Squadron Leader Johnny Kent, DFC, AFC, a Canadian, took command on October 26 he found "a disorganised, undisciplined and demoralised collection of first class material."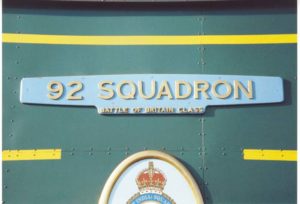 (Above: this locomotive has been preserved – picture taken on a visit to the Bluebell Railway)
34082 615 Squadron – The County of Surrey squadron of the AAF, also known as "Churchill's Own" as the great manwas honorary Air Commodore. Its Hurricanes were based at Kenley, Prestwick and Northolt during the Battle.
(Above: pictured at RAF Museum Cosford)
34083 605 Squadron – This Hurricane Squadron – designated County of Warwick in the AAF – arrived at Croydon from Scotland on September 7, the day of the first mass Luftwaffe raid on London.
34084 253 Squadron – Another Hurricane squadron which came down from Scotland to replace one of those in need of a rest. After arriving at Kenley on August 29, the squadron went into action the next day and scored a number of victories. However, three pilots were killed, including Pilot Officer David Jenkins, shot by enemy aircraft while descending by parachute. On August 31 the same fate befell the CO, Squadron Leader Harold Starr. He was replaced by the former CO, Squadron Leader Tom Gleave, still flying with 253 as a supernumerary. Later that day Gleave was shot down and terribly burned over Biggin Hill, eventually becoming a founding committee member of the Guinea Pig Club.
34085 501 Squadron – County of Gloucester Squadron, AAF, with Hurricanes. This was the outfit which suffered the most aircrew deaths in the Battle, with 19 pilots killed. One of the casualties was Flying Officer Arthur Rose-Price, the brother of the actor, Dennis Price, who arrived on the squadron on September 2 and was lost later that day in combat over Dungeness. In contrast, Squadron Leader (later Air Vice-Marshal) Harry Hogan, DFC, survived the whole Battle as CO.
Throughout the Battle 501 was "on the Southern" at Middle Wallop, Gravesend and Kenley.
34086 219 Squadron – Redhill was a particular base for this Blenheim squadron, which began to acquire Beaufighters during the Battle.
34087 145 Squadron – On August 8, while stationed at the Tangmere satellite of Westhampnett, the Hurricanes of 145 played a leading part in the "Battle of Convoy CW9". This action, off St Catherine's Point on the Isle of Wight, cost a number of RAF lives including that of Flying Officer Richard Kay-Shuttleworth of 145, the second Lord Shuttleworth.
34088 213 Squadron – The Hurricanes of 213 operated from Exeter and Tangmere. On August 11 the Squadron took part in what became known as the "Battle of Portland", with the Luftwaffe launching a major attack on the Dorset naval base.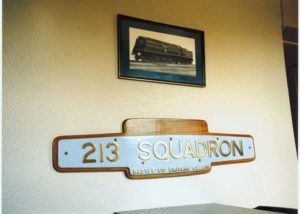 (Above: at Bentley Priory before its closure)
34089 602 Squadron – City of Glasgow Squadron of the AAF which flew Spitfires from Drem in Scotland and Westhampnett.
34090 Sir Eustace Missenden, Southern Railway – The men and women of the Southern played a significant part in "The Finest Hour" and some lost their lives. The point is illustrated on the memorial unveiled at Staplehurst station in 2003. On September 15 1940 a Hurricane of 229 Squadron crashed onto the station and the Belgian pilot, Pilot Georges Doutrepont died, as well as 18-year-old booking clerk, Charles Ashdown. The 2003 ceremony was performed by Eric Doutrepont, son of Georges and the Belgian Air Force performed a flypast. Unfortunately the plaque records the railway company as "Southern Railways". One wonders whether Sir Eustace Missenden, General Manager of the Southern, felt comfortable with his part in this inelegant locomotive name.
34109 Sir Trafford Leigh-Mallory – Commanded 12 Group covering the area to the north and east of London. After the Battle he succeeded Park at 11 Group. He has gone down in history as a far less competent leader of fighters than Park and as a major proponent of the "Big Wing" theory, involving a number of squadrons operating together, once they had formed up after take off. He was killed in an air crash in 1944.
34110 66 Squadron – Flew Spitfires from Coltishall (Norfolk), Kenley, Gravesend and West Malling. For most of the Battle the CO was Squadron Leader Rupert "Lucky" Leigh. Among his claims to fame was that in October 1939, as a flight commander at the Central Flying School, he had tested the legless Douglas Bader on his fitness to return to flying.