The Airmen's Stories –

Sgt. E Salway

Ernest Salway, from North Wingfield near Chesterfield in Derbyshire, joined the RAFVR as an Airman u/t Aircrew in May 1939. Called up on 1st September 1939, he qualified as an Air Gunner and was posted to 141 Squadron, operating Defiants at RAF Turnhouse near Edinburgh, in late June 1940.

On 12th July 141 Squadron were posted south to West Malling in Kent. Salway was teamed with Sgt. RC Hamer and on 16th July they flew a patrol together in Defiant L6995 but encountered no enemy aircraft.

On 19th July 141 moved to a forward operating base at Hawkinge. At 1230 twelve aircraft were ordered up to patrol the coast off Folkestone at 5000 feet. Salway was spared this sortie as three of the Defiants, including his, could not get their engines to start. By this time the Germans, in this case from JG51, had learned to differentiate the Defiant from the similar Hurricane and avoid a rearward approach where the turret could be brought to bear. Seven of the nine aircraft were shot down, with four pilots and six gunners either dead or missing. The squadron was withdrawn to Prestwick in Scotland to reform with fresh personnel.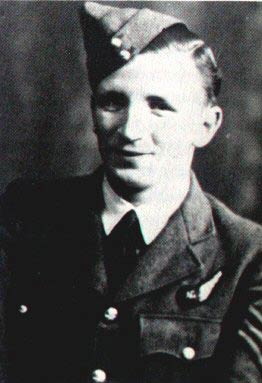 In September 141, still equipped with the Defiant, was re-designated as a night-fighter squadron, Salway flew his last recorded sortie with them on 22nd November before being posted to the re-formed 255 Squadron at Kirton-on-Lindsey in mid-December. This squadron also operated Defiants in the same role.
A further move came at the end of July 1941 when Salway was sent to 406 (RCAF) Squadron, operating Beaufighters, later in the year going on to 1484 Target Towing Flight.
At the beginning of May 1942 Salway, now a Flight Sergeant, transferred to 158 Squadron of Bomber Command but his stay only lasted a week before he was moved on again to join 76 Squadron at Middleton St.George near Darlington. The squadron operated the Halifax B.MkII.
His first sortie was in Halifax W1016 'MP-B' on a night raid to the French port of St.Nazaire on the 22nd/23rd May 1942.
The squadron ORB states:- "This attack on St.Nazaire was completely foiled by poor weather conditions. Bombloads had to be jettisoned. Outward and return journey's uneventful except for "B" which sighted a night fighter. A Me109 came into attack from the starboard quarte but evasive action was taken by the captain by diving towards the enemy aircraft which banked away steeply and passed over 30 yards above the Halifax – our aircraft was travelling north at time of attack (0350). Enemy aircraft came in from northeast and departed southeast".
'B – Beer' landed at 0630 hours after nearly seven hours in the air.
Salway flew against Cologne on 30th May as part of the first 'Thousand Bomber Raid', followed two nights later by an attack on the huge Krupps works at Essen. Essen was also the target on 19th June and the next night Salway's crew took off for Emden in Halifax W1114 'MP-F'. The ORB states:- "This aircraft was airborne at 2328 hours since when nothing further has been heard. It is therefore reported missing".
Over Holland at 15000 feet 'F for Freddie' was first hit by flak and then at approximately 0143 hours was attacked by a Me110 nightfighter. The order to bale out was given. For reasons unknown Salway was unable to attach his parachute, the rear gunners parachute being stowed outside the turret and susceptible to damage.
In desperation it was agreed that Salway should cling to the harness of the mid-upper gunner, Sgt. DS Smith DFM. They left the aircraft successfuly but the opening shock and intense cold caused Salway to lose his grip and he fell to his death.
The aircraft came down near Ulrum, 21 km NW of Groningen, Holland with two of the crew, pilot P/O H Norfolk and wireless operator Sgt. WH Charlesworth, being killed. Salway was found near Houwerzijl, 3 km SSE of Ulrum.
All three were buried in Ulrum Cemetery.
The remaining crew were taken prisoner:
P/O EA White RCAF
Sgt. HD Jones
Sgt. RWF Painter
Sgt. DS Smith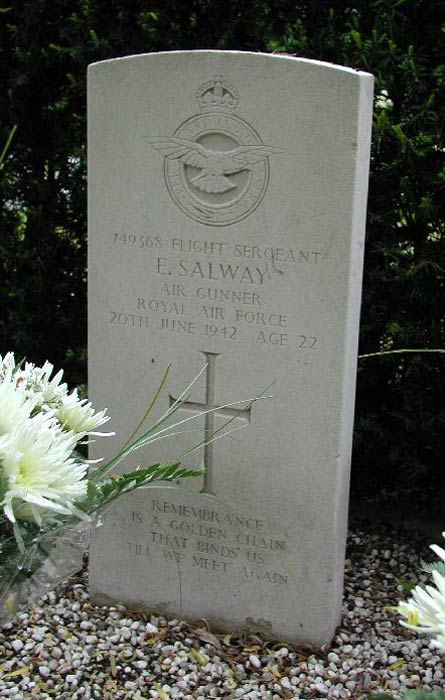 Research courtesy of Dean Sumner, December 2004
Images courtesy of Stevin Oudshoorn