The Airmen's Stories -

S/Ldr. A G Malan

Adolph Gysbert Malan was born in Wellington, South Africa on 3rd October 1910. In February 1924 he became a cadet on the training ship General Botha and joined the Union Castle Steamship Line in 1927.


Malan joined the Royal Naval Reserve on 19th February 1932 as an Acting Sub-Lieutenant and he was commissioned as a Sub-Lieutenant on 18th June 1935.


Later in 1935 Malan applied for a short service commission in the RAF, was accepted and began his elementary flying training at 2 E&RFTS Filton on 6th January 1936. On 1st March 1936 Malan relinquished his RNR commission.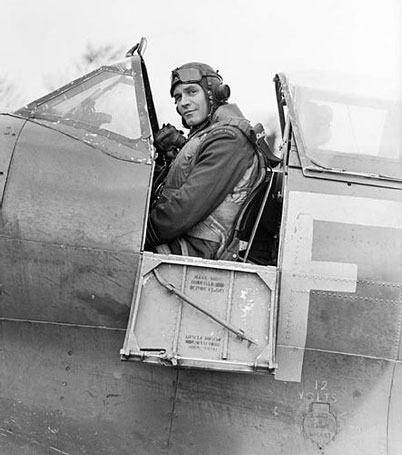 He went on to 3 FTS Grantham on 14th March and with his training completed joined 74 Squadron at Hornchurch on 20th December 1936. Malan was made a Flight Commander in late 1937. He was appointed 'A' Flight Commander on 2nd March 1939 and promoted to Acting Flight Lieutenant. His previous occupation earned him the nickname 'Sailor' and this persisted during his RAF career.

Near Dunkirk on 21st May 1940 he destroyed a Ju88, probably a He111 and damaged a second Ju88, on the 22nd he shared a Ju88, on the 24th he shared a Do17 and destroyed a He111 and on the 27th he destroyed a Me109, shared a probable Do17 and damaged two others.
He was awarded the DFC (gazetted 11th June 1940).

During the night of 18th/19th June 1940 Malan destroyed two He111's. He shared a He111 on July 12, got a probable Me109 on the 19th, damaged another on the 25th and destroyed a Me109 and damaged another on the 28th.
He was awarded a Bar to the DFC (gazetted 31st July 1940).

Malan relinquished command of 'A' Flight on 8th August and took command of 74 Squadron as an Acting Squadron Leader. He destroyed two Me109's and damaged a third on the 11th and destroyed a Do17 and probably another on the 13th.

Malan destroyed a Ju88 and damaged another on 11th September, got a probable Me109 on 17th October, destroyed a Me109 on the 22nd, another on 23rd November, destroyed one and shared another on the 27th and shot down another on 2nd December.
He was awarded the DSO (gazetted 24th December 1940).

He destroyed a Me109 on 2nd February 1941 and shared a Do17 on the 5th. He was posted away from 74 Squadron on 10th March 1941 to lead the Biggin Hill Wing.

Between 17th May and 24th July 1941 Malan destroyed twelve Me109's, probably destroyed one, shared two and damaged nine others. He was awarded a Bar to the DSO (gazetted 22nd July 1941) and on 9th August he was appointed CFI at 58 OTU Grangemouth.

Two months later Malan was sent to the USA, with five other pilots, to lecture and liaise with the US Army Air Corps.

Back in the UK in late 1941, Malan was posted to Sutton Bridge to command the CGS. On 1st January 1943 he was appointed Station Commander, Biggin Hill. He often flew on operations over the next few months but scored no further victories.

Biggin Hill Sector claimed its 1000th victory on 15th May 1943. Malan was posted away on 7th October and after sick leave took command of 19 Fighter Wing, 2nd TAF on 1st November. In March 1944 he took command of 145 Wing at Merston, composed of three French squadrons, 329, 340 and 341. He flew a Ramrod sortie on D-Day, leading Yellow Section of 340 Squadron, escorting Albemarles towing Horsa gliders.

Malan was made CO of the Advanced Gunnery School at Catfoss in July 1944. He did a course at RAF Staff College in 1945 but decided not to stay in the RAF. He was released in 1946, as a Group Captain, and returned with his family to South Africa.

After a long period of poor health, he died there on 17th September 1963. He received a civic funeral from the City of Kimberley. Thousands of people lined streets as the cortege made its way from the cathedral to the cemetery.

As well as his British awards, Malan received the C de G (Belgium) (gazetted 4th November 1941), the C de G (France), the French Légion d'Honneur and the Czech Military Cross.

His portrait was made by Eric Kennington (below left) and Cuthbert Orde (below right).