The Airmen's Stories -

F/O J A Hemingway

John Allman Hemingway was born in Dublin, Ireland on 17th July 1919 and joined the RAF on a short service commission, beginning his training on 7th March 1938. He was serving with 85 Squadron in France in early 1940 and on 10th May he claimed a He111 destroyed.
On the 11th Hemingway shared in the destruction of a Do17. His Hurricane, L1979, was hit by flak over Maastricht and he made a forced-landing.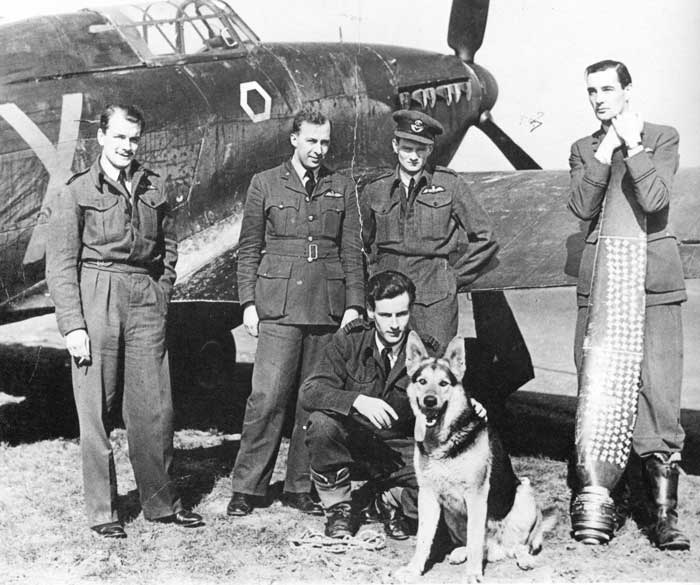 Above: members of 85 Squadron
L to R: Hemingway, P/O GL Howitt, F/O JE Marshall, S/ldr. PW Townsend (kneeling with dog Kim) and F/O WF Carnaby leaning on propeller scoreboard).
He rejoined 85 Squadron at Lille-Seclin on the 15th after being returned by the Army. He flew back to England in an Ensign on the 17th. Hemingway was posted to 253 Squadron at Kirton-in-Lindsey in early June 1940 but rejoined 85, then at Debden, on the 15th.
On 18th August Hemingway baled out after his Hurricane, V7249, was damaged by return fire from a Ju88, engaged over the Thames Estuary. He fell into the sea and was rescued by a lightship 12 miles east of Clacton.
On the 26th he was shot down by a Me109 over Eastchurch and baled out, unhurt. His Hurricane, P3966, crashed on Pitsea Marshes.
The site was excavated in March 2019 and the engine, control column and other parts were recovered.
Hemingway damaged a Me109 on 31st August. He and F/Lt. JE Marshall were led on a patrol by F/lt. G Allard on 22nd September over the western area of the Church Fenton sector. In poor weather conditions over Lancashire they ran low on fuel and had to make forced-landings, Hemingway and Marshall near Burnley and Allard near Clitheroe. All three Hurricanes were damaged but repairable.
In February 1941 85 Squadron was re-equipped with Havocs. During the nights of 3rd/4th May and 5th/6th May Hemingway damaged He111's.
He was awarded the DFC (gazetted 1st July 1941).
He was posted to 1452 Flight at West Malling on 7th July 1941, to fly Turbinlite Havocs.
In 1945 Hemingway was again operating in day fighters and he commanded 43 Squadron in Italy from early April until December 1945. On 23rd April 1945 his Spitfire was struck by ground fire and he baled out but was unhurt.
Hemingway retired from the RAF on 12th September 1969 as a Group Captain.