The Airmen's Stories -

F/O I N Bayles

Ian Norman Bayles was born in Melbourne, Australia on 13th August 1918 and went to England with his parents in 1923. He was educated at Winchester College before returning to Australia in 1937.

When it was decided that he should read Law he went back to England to study at Trinity College, Oxford, with the intention of returning to Melbourne to practice.
Bayles joined the University Air Squadron on 19th October 1938 and then transferred to the RAFVR in June 1939. He was commissioned in the RAFVR on 26th September, completed his flying training at RAF College FTS Cranwell and joined 152 Squadron at Acklington on 20th April 1940.
The squadron had recently received its first Spitfires. Bayles was sent to 5 OTU Aston Down on 5th May to convert to Spitfires. On 29th May he was posted to 249 Squadron at Leconfield but, following pressure from 152's CO, he rejoined 152 Squadron on 9th June 1940.
Bayles damaged a Me110 on 13th August, claimed a Ju88 destroyed and a He111 damaged on 25th September, damaged a Me110 on the 27th and a He111 on the 30th. He was posted away from 152 on 18th August 1941 to instruct.
He had married Doriel Rowena Dutton on 29th August 1940 in Berwick (below).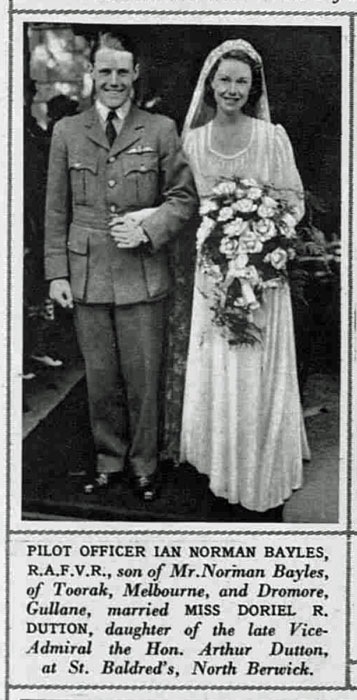 In mid-1942 Bayles took a short gunnery course and was posted to 224 Group in India. He returned to operations on 5th February 1943, when he was given command of 135 Squadron at George, operating along the Arakan coast in Hurricanes. Bayles led 135 until November 1943.
He commanded 273 Squadron at Maunghnama and later Kyaukpyu from 16th December 1944 until 14th April 1945, when he was appointed Wing Commander Flying of 902 Wing.
He was awarded the DFC (gazetted 2nd October 1945).
Bayles was posted back to the UK in late 1945. He was released from the RAF in July 1946 and returned to Australia with his family in 1947.
He died in Victoria on 12th October 1988.