Paul Nash -

Totes Meer (Dead Sea)

Oil on canvas, 1940/41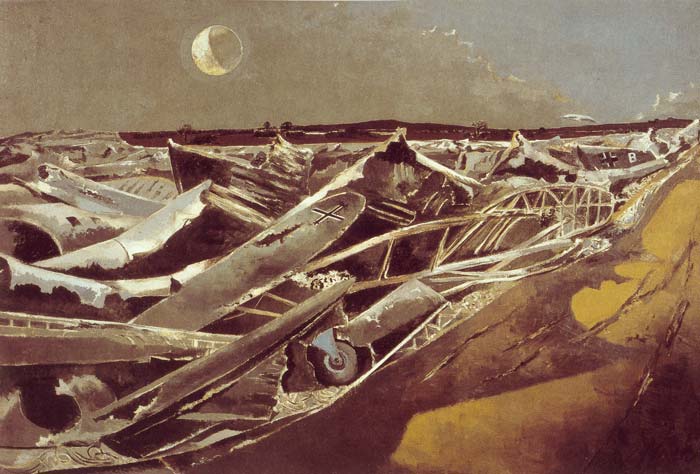 Image courtesy Tate Gallery
After 'Battle of Britain' this is probably Nash's most famous work of WW2 (he was an artist in WW1 as well). The subject is the wreckage of shot-down German aircraft at a salvage dump at Cowley, near Oxford. He worked from sketches and photographs made on-site (photos below).
He explained the work as follows:
The thing (the salvage dump) looked to me, suddenly, like a great inundating sea. You might feel – under certain circumstances – a moonlight night, for instance, this is a vast tide moving across the fields, the breakers rearing up and crashing on the plain. And then, no, nothing moves, it is not water or even ice, it is something static and dead. It is metal piled up, wreckage. It is hundreds and hundreds of flying creatures which invaded these shores (how many Nazi planes have been shot down or otherwise wrecked in this country since they first invaded?). Well, here they are, or some of them. By moonlight, the waning moon, one could swear they began to move and twist and turn as they did in the air. A sort of rigor mortis? No, they are quite dead and still. The only moving creature is the white owl flying low over the bodies of the other predatory creatures, raking the shadows for rats and voles. She isn't there, of course, as a symbol quite so much as the form and colour essential just there to link up with the cloud fringe overhead.
Above: the tail wheel (from a Dornier 17) appears centre-stage in the painting
Above: the wing (from a Messereschmitt 110) marked with the individual aircraft letter 'B' appears in the right-hand background of the painting

Above: a general view of the wreckage, with a He111 prominent